By REX – 2023-09-28 11:08:27
As summer's warmth gives way to the crisp embrace of autumn, across North America friends and family eagerly anticipate the upcoming fall and holiday season. It's a time of change, reflection, and, most importantly, gathering with loved ones. Amidst the changing leaves and cozy sweaters, is a season filled with warmth, togetherness, and cherished traditions.
In today's digital age, the art of recommendation and sharing experiences with friends and family has evolved. People are increasingly turning to technology to curate their fall and holiday experiences. Whether it's finding the perfect movie for a cozy night in, discovering a new favorite restaurant, or sharing their favorite experiences with loved ones, RecSpot is here to make it all possible. By allowing users to share their recommendations for movies, TV shows, restaurants, and more, RecSpot has transformed the way that people enjoy this cherished season, ultimately fostering a sense of community and connection during this special time of year.
---
The Tradition of Recommendations
The fall and holiday seasons are synonymous with traditions, both old and new. Whether it's a new holiday recipe, the coziest sweater of the year, or a must-watch movie for a chilly evening, Americans have long shared their finds with friends and family, usually via scribbled paper lists or notes sent via text message.
In a world inundated with options, recommendations from trusted sources hold a special place in our hearts, and tend to have the most influence on us. Esteemed media outlets such as The New York Times, the LA Times, The Washington Post, USA Today, Food and Wine, and other review websites like Yelp or Rotten Tomatoes also come into play here, but nothing compares to recommendations made from those closest to you, those who know you best, and those who share the same interests, tastes, and preferences.
---
The Rise of Digital Sharing
As our lives become increasingly intertwined with technology, it's only natural that recommendations and sharing would migrate to digital platforms. Social media and messaging apps have made it easier than ever to share our favorite finds with our friends and followers. However, the sheer volume of information can sometimes be overwhelming, and it's easy for recommendations to get lost in the digital noise.
RecSpot has proven to be different as it bridges the gap between tradition and technology and offers a dedicated space for users to share their favorite movies, TV shows, and restaurant experiences, all in one place. It not only simplifies the act of sharing recommendations but also enhances the sense of community around shared interests. Not to mention, RecSpot users can make different RecLists based on topics and location, allowing users to share their personal recommendations from different spots all over the world.
---
Some Useful Situations for Making a Fall RecList Might Be…
1. Cozy Movie Nights
The cool autumn evenings provide the perfect backdrop for movie nights, and Americans take their movie recommendations seriously. They consult trusted sources like The New York Times' "Here are The Most Anticipated Movies of Fall 2023" and The LA Times' "Fall Preview" articles to discover the must-watch films of the upcoming season. These expert recommendations and reviews set the tone for cozy evenings with loved ones.
RecSpot adds a new dimension to this tradition by allowing users to curate their own movie lists. Users can compile RecLists with their top movie recommendations for the fall and holiday season. These personalized lists are shared with friends and followers, making it easier than ever to find the perfect film for any occasion. Whether it's a heartwarming holiday classic or a spine-tingling thriller, RecSpot users can discover the ideal movie to set the mood.
2. Unique Dining Experiences
Food plays a central role in the fall and holiday season, and people eagerly seek out recommendations for the best restaurants to visit with family and friends. Esteemed publications like Food and Wine provide expert insights into the culinary scene, highlighting the restaurants that are serving up exceptional holiday dining experiences.
RecSpot takes dining recommendations to the next level by allowing users to create RecLists dedicated to their own favorite restaurants. Users can share their top dining spots for holiday feasts or intimate gatherings, complete with personal reviews and recommendations. This not only simplifies the process of finding the perfect restaurant but also adds a personal touch to the dining experience.
---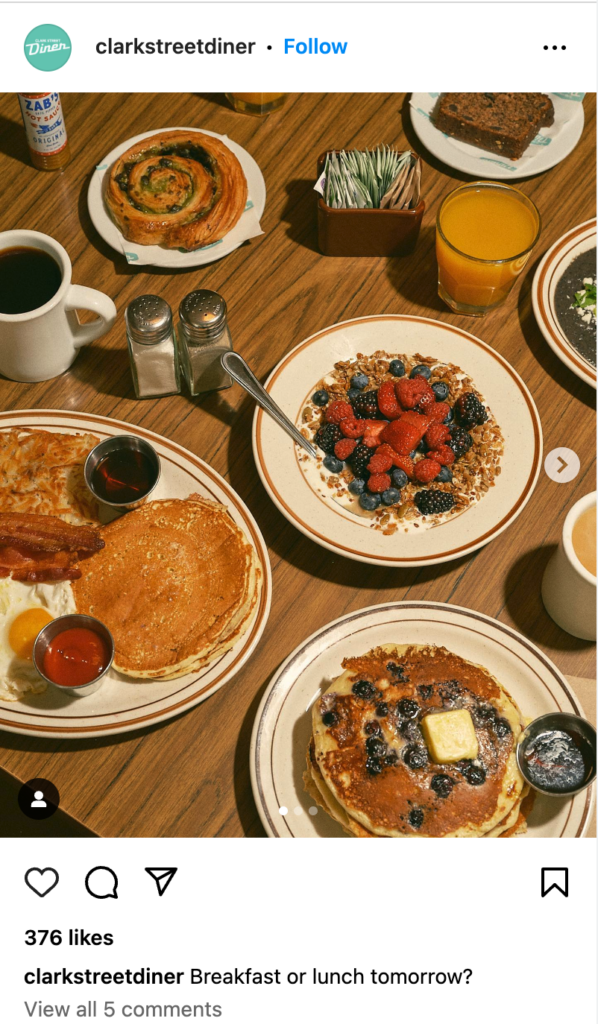 Dine Somewhere New with RecSpot…
RecSpot users can create RecLists that showcase their favorite restaurants, allowing them to curate personalized collections of dining recommendations. These lists can be tailored for specific occasions, such as "Essential Brunch Spots for Fall" with a layout similar to this Eater Los Angeles article or "Restaurants Perfect for Celebrating the Holidays" with restaurants similar to this piece in Town & Country. Users have the flexibility to include various details in their RecLists, such as price range, cuisine type, location, images, and additional reviews. This comprehensive approach provides friends and followers with a valuable guide to explore dining options.
A standout feature of RecSpot is its social aspect, enabling users to connect with friends on the platform and easily share their curated RecLists directly with them. Friends can peruse the recommendations, offer comments on their favorites, and even plan outings together based on these shared lists. This collaborative and interactive approach enhances connections among friends, making dining recommendations a more engaging and communal experience.
---
RecSpot: The Ultimate Hub for TV Shows and Movies
RecSpot's recommendation algorithm is a game-changer when it comes to discovering new movies and TV shows. It analyzes user preferences and the recommendations from friends, creating tailored suggestions that align with individual tastes. Users can explore a wide range of options and find hidden cinematic treasures to enjoy during the season.
---
Why RecSpot?
From sharing recommendations for the best movies to watch, the coziest TV shows to binge, and the most delectable restaurants to dine in, the art of recommendation continues to play a central role in fall and holiday festivities. The RecSpot app is able to bridge the gap between tradition and technology, and empowers users to connect with friends, create shared experiences, and explore new traditions while fostering a sense of community and togetherness. As we embark on this season of gathering, let RecSpot be your guide to making the most of every moment.With RecSpot, we can create lasting memories and celebrate the beauty of fall and the holidays with those we hold dear.
---